Ohhhh glorious joy. Today my first birchbox finally arrived. I may have sworn off buying the mass quantities and large size products, but for the low, low price of 10.00 a month, I can justify this purchase. Don't judge me. I've just given up taco bell in the interest of living past 30. Sometimes I get it right. 

The photos are obviously not mine, but I digress. 
I live on the west coast, so apparently that means it will take a full ten days for my box to arrive, when other people get them sooner. Again, 10 bucks a month. Not really going to complain. 
I got Box #1, I'm pretty sure. I was not disappointed. The little greeting card that came with it told me all about the products, and the sweet magnet within was a nice little gift. The theme in it all is Clarity. 
I opened my beautiful barbie pink package and nearly knocked over my hard lemonade.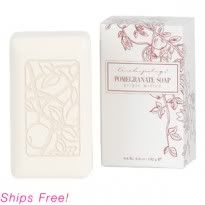 #1 Archipelago Pomegranate Soap - Full size $12.50 for 6.9 oz
I've never used this brand, but I'm excited about my 1.8 oz sample. 2006 I was starting my junior year and fell deeply in love with the Temptations: Pomegranate Martini. Like a fool, I thought when it disappeared at the end of that fateful summer that Bath and Body Works would bring it back the following summer. Like many other people who have suffered lost love, it was not meant to be. Those fuckers did not bring it back, and it's now $50.00 for an $8.00 tube of it on eBay. And if one more person asks me "Have you tried pomegranate Midnight instead?" I will karate chop the poor girl. Plain and simple. It is not even remotely the same. My point is that normally I don't like pomegranate scents because I'm still holding out for my first love and everything else just smells kind of fake to me. However, when I opened the box, I was met with the sweet, pure fragrance. This soap doesn't bug my sensitive skin, and it leaves a light scent that complements the Juicy Couture Spray. I would definitely recommend this, but I've got enough Lush product right now that I won't be forking out money for a full size any time soon unless this turns out to be the Holy Grail of soap. It's currently waitlisted on Birchbox, so it wouldn't surprise me. It definitely leaves my skin softer.
#2 The Stila Liner: Blue Ribbon Smudge Stick, Waterproof - They gave me a FULL SIZE! - $20.00
I think I was most excited about this one because I saw on a sneak peek that these would be in some of the boxes, and I have lately wanted to try some navy blue liner. I have very almond, mongolian eyes. I want to make them look wider, and I must not be alone. I'm a sucker for anything marketed to help me achieve that goal. Stila makes great liner. It doesn't bug me as a contact lens abuser and constant allergy attack victim. It's soft so I'm not ripping at my waterline. The colors are high pigment and they stay on with the flexibility for smudging. Obviously this alone was worth it.
As of this morning, I've been wearing to all day and I'll tell you the truth, even with a contact lens malfunction I haven't had to retouch it. The color looks like a stormy blue-grey, and definitely not as harsh as black, but you could use both for smokey eyes. I still want to try Navy liner, but I'll be using this whole thing up. 
#3 Juicy Couture: Juicy Couture $69.00-$89.00 for a 1.7 or 3.4oz bottle
"Top notes of watermelon, passion fruit, and mandarin combine with bright whiffs of marigold and green apple. Rose, vanilla, and yummy caramel undertones anchor the scent."
I am a loyalist to Viva la Juicy, but I like to think of this scent as the summery tea-time version. It's fresh and sweet. I'm sitting here sniffing my wrist like it's still covered in coke, so I must like it.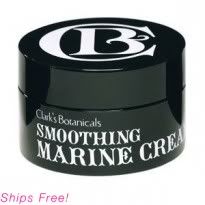 #4 Clark's Botanicals Smoothing Marine Cream -1.7 oz - $112.00 (mutherfucker)
I put this on last night, and I'll tell you that not only does a little go a long way, but it smells like what I can only assume classy people from the 1940's glam life. Like old, classic hollywood. I woke up this morning and my skin feels like clouds woven with silk. The price of a full size is the only reason this won't be anything I buy soon. 
Bonus Bonus!! 
Apparently they read my mind and combined my love of food and cosmetics by adding a bonus snack. This month's snack is a Larabar, which I learned from Amazon I can buy for approximately $1/bar if I order a whole box online. Otherwise, they look like they're probably $1.50 - $2.50 a pop. Better for you than candy bars, gluten free and vegan friendly. I'm trying to get into dancer shape and tone up, but a lot of healthy snacks don't satisfy me on the go. Don't anyone tell me about fiber bars. Let me tell you, chocolate or no, they remind me of and taste like what I imagine drywall tastes like: BAD. This one was carrot-cake flavored. I resisted the urge to smear it with cream cheese frosting, and because it was fun size, didn't bother to wait til the mid-morning break at school to try it. 
It was actually really good. Some people think they're on the sweet side, which I'm sure is why I like it. I'm not positive on all the ingredients, but if you look them up, you'll see words like: Raw foods, dried fruit, nuts, dried berries, raisins. I hate eating breakfast, but I can eat this in the car on the way, or snack on it during class. I have allergies to pesticides and some preservatives that are put in nuts and dried fruit. Something in there kind of made my throat tickle, but not nearly as bad as apples and red cabbage and carrots usually do, so I can take one for the team on that. I'm going to try a new flavor on for breakfast tomorrow. Edit: Tried a COCO vegan bar. Apricot. It was like eating forrest floor soil, tea grounds, and general grossness. Definitely sticking with the Larabar. 
What'd you get in your box? Were you happy with it? Will you continue to subscribe?
mistermakeupartist likes this
yourethereasonwhyidrink posted this